About Carole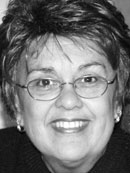 Thank you for seeking to learn more about this warm and generous woman. The Carole Stinson Literacy Foundation was formed in memory of our namesake – a reading enthusiast, literacy volunteer, and person who gained the most joy when giving to others. We invite you to keep Carole's passion for literacy alive by supporting the work that we do.
Carole Diane Stinson (née Pimentel) was born on May 20, 1948 in Merced, California. Her love of reading came at an early age. As a child, she was often bedridden due to severe asthma and found adventure via books. She became an avid reader, exploring different book genres at the same time and often finishing a particularly good book in a single day. She sought to pass on this love of literature by strongly promoting daily reading to children.
A devoted mother, Carole was involved in countless educational endeavors—both during her children's school years and beyond. She served as a classroom helper, school fundraiser, literacy teacher, PTA President, and volunteer reader for children's story hour at her community library. She also enjoyed tutoring children and adults in reading/writing and assisting job seekers in completing resumes and applications.
The foundation's decision to support the Reach Out and Read program came from Carole's love of putting beautiful books directly into the hands of children. Upon learning of the birth of a baby, she would often hand-select a box of books for parents to enjoy with their new addition.
Offering to help others in reading and writing tasks came naturally to Carole. People of all ages and skill levels received Carole's assistance: her own children and grandchildren, family members, friends, job seekers, neighborhood students, fellow club associates, and those whom she didn't know but helped on recommendation from others.
Carole's other joys included spending time with grandchildren, studying the Portuguese language, organizing charitable events, attending music and theatre productions, and traveling; especially to the Hawaiian Islands.
She passed away gently on June 9, 2006 in Modesto, California surrounded by family.
Carole's kind and generous nature touched countless lives and hearts. Please join us in continuing what she has begun.