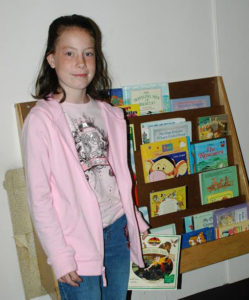 Fill A Giving Shelf for Children Age 6 to 14
The Carole Stinson Literacy Foundation welcomes your participation in gathering new books for children age 6 to 14.
Background:
We proudly support Reach Out and Read clinic sites located in Central California and the San Francisco Bay Area. This award-winning national program serves children from birth to 5 years of age and is devoted to early literacy and school readiness. Healthcare professionals present each child with a new book during check-ups, use the book to help assess developmental milestones such as eye tracking and hand grasping, and talk with the youngster's caregiver about the importance of reading aloud at home.
The Challenge:
We've discovered that older children at our clinic sites would also like to receive new books, so we're calling on supporters to organize book drives for readers age 6 to 14. Help us fill Giving Shelves at the sites we serve.
How Your Group Can Help:
CSLF encourages donors to form book drives at their schools, workplaces, clubs, and community groups. It's as easy as A – B – C!
A. Set A Date – Choose a date (or date range) for your book drive and spread the word! Participation suggestions: have donors bring a new book to your next club meeting or office party. Book donations can also be used to drive customers into your business for a special discount or for a chance to enter a drawing.
Don't forget to tell CSLF about your book drive. We'll advertise your event on social media for extra attention!
B. Gather Books – Make sure your book collection area is clearly marked and is located in an area protected from the weather. Books must be in new or nearly-new condition. Remind donors to remove any personal information that might be inside books. All donations are carefully inspected by volunteers. Please, no books with religious, political, sexual, or violent themes. Thank you!
C. Contact – Reach out to CSLF to arrange a collection of your book donations. We'll do the rest! Call 650.468.4872 or email info@carolestinson.org
Thank you for your support of literacy.
The Carole Stinson Literacy Foundation is a tax-exempt 501(c)(3) public charity.